WELCOME to our branch of AAUW!
Diversity Statement: In principle and in practice, AAUW values and seeks an inclusive membership, workforce, leadership team and board of directors. There shall be no barriers to full participation in this organization on the basis of age, disability, ethnicity, gender, gender identity, geographical location, national origin, race, religious beliefs, sexual orientation or socioeconomic status.
Our meetings are held on the second Tuesdayof the month. Our branch does not hold meetings during the summer months. Unless otherwise noted, meetings begin at 7:00 p.m.either on ZOOM or at St. John's Episcopal Church, Fellowship Room, 275 East Main Street Wytheville, Virginia.
Follow us on Facebook: https://www.facebook.com/AAUW-Wytheville-Branch-357050458079082
Below are some of the programs and events our branch sponsors:
Decorating and Displaying at Wythe County Public Library in December
Library Tree Decorating and Gift Cards. Each year our branch decorates a tree at our the Wythe County Library. Each mem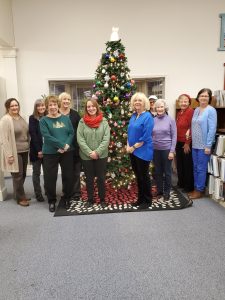 ber can donate a $10.00 Walmart card for the Family Resource Center. This is a great way to share the spirit of Christmas season with our Community.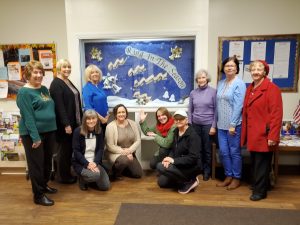 Scholarship Recipient (2017-2018)
Click here for more information about our scholarship fund. Pictured with our President Sarah Asbury is our 2017 recipient Virginia Bueller. Virginia (Ginny) plans to attend college in the fall to pursue a Bachelors of Science degree in social work.
Our  Middle School STEM program at Wytheville Community College .
Our branch partners with Wytheville Community College to hold a special event for Middle School girls.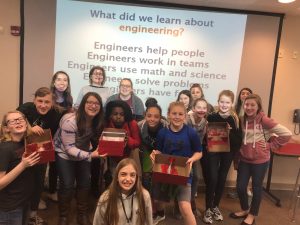 Voting Registration for our Community
We have been participating in voter registration for 10 years. This year, due to Covid-19, the registration will be offered online. THANK YOU to our wonderful volunteers for Voter Registration!
Our location was switched to Smyth Hall library at the suggestion of WCC and it was a perfect spot! Last year our branch had 34 registrations. This tied with our numbers last year. We are on a roll. Thanks for making AAUW shine!
International Dinner at the Old Stage Restaurant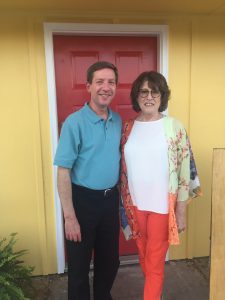 Each year our branch hosts an annual dinner which includes an international program. The speakers for our 2019 International Dinner were Eric & Deb Vrsansky who traveled to Guatemala and  gave a wonderful presentation!  Deb and Eric talked about the Garifuna culture. They  shared many pictures about  traveling to Livingston.  Livingston is a town located in eastern Guatemala, at the mouth of the Río Dulce at the Gulf of Honduras. This town is only accessible by boat. The Vranskys talked about  the people  who lived along the river and travelled only by boat to go to school and work. Deb and Eric met so many  people who lived there, especially their tour guide Gus. Gus owned and operated the tour and restaurant (see 1st photo).  Below are some of the photos they shared.
Where We are Located:
The Wytheville  branch of the AAUW is located in the heart of the Blue Ridge Mountains of southwest Virginia. Our members  are  diverse, educated, creative, conscientious, and often adventurous group that includes several generations of teachers, executives, writers, and community leaders (to name a few). We invite you to join us in our pursuits to fulfill AAUW's mission of promoting equity for all women and girls, through advocacy, education,  philanthropy, and research.
What We Offer:
Fellowship and community with like-minded people
Educational and thought-provoking programs
An open forum for discussion
Local, state, and national levels of participation
National membership benefits