Wytheville's AAUW Branch Past Events and Programs are Featured Below:
The Wytheville Branch of AAUW (American Association of University Women) cordially invites you to a program featuring author Heath Hardage Lee. Bring your friends!
WHEN: Sunday, November 17, 3:00 pm
WHAT: Lecture and Book Signing – free event
WHERE: Bolling Wilson Hotel, 170 E. Main Street, Wytheville, VA
TOPIC: The League of Wives: The Untold Story of the Women Who Took On the U.S. Government to Bring Their Husbands Home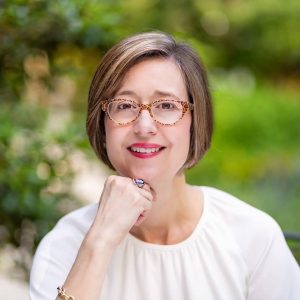 Narrative Nonfiction Writer, Independent Historian and Curator – Heath Hardage Lee Heath comes from a museum education and curatorial background, and she has worked at history museums across the country. She holds a B.A. in History with Honors from Davidson College, and an M.A. in French Language and Literature from the University of Virginia. Heath served as the 2017 Robert J. Dole Curatorial Fellow: her exhibition entitled The League of Wives: Vietnam POW MIA Advocates & Allies about Vietnam POW MIA wives premiered at the Robert J. Dole Institute of Politics in May of 2017 and will travel to museums throughout the U.S. including the Richard Nixon Presidential Library and Museum through 2020.
Potomac Books, a division of the University of Nebraska Press, published Heath's prize-winning book, Winnie Davis: Daughter of the Lost Cause, in 2014. Heath has completed her second book, a narrative nonfiction work entitled The League of Wives: The Untold Story of the Women Who Took On the U.S. Government to Bring Their Husbands Home from Vietnam about the courageous wives of American Prisoners of War and Missing in Action during the Vietnam War. St. Martin's Press published the book on April 2, 2019. Reese Witherspoon's film production company Hello Sunshine and Fox 2000 have just optioned the book for a feature film….
More about Heath Lee – Podcast of Heath and fellow University of Virginia alum Dr. Keith Harris-the Rogue Historian! Take a listen! https://keithharrishistory.com/the-rogue-historian-podcast/2019/8/13/episode-63-the-league-of-wives-withheath-hardage-lee?fbclid=IwAR1ZIcnKvHIpP4PfWtLBVt9jvX122YToeDFwUNvZYRpvsN
SAFE FORUM!!!
The American Association of University Women (AAUW) Wytheville branch held our annual forum:  "Seeking Affirmative Female Empowerment," or "SAFE," an event aimed at discussing safety awareness for women and girls.
The "SAFE" program is held in mid November at St. Johns Episcopal Church. The public is invited.
Representatives from local law enforcement participated including Deputies, Denise Cook,  Angie Simpson and Jennifer Brewster with the Wythe County Sherriff's Office and the Wytheville Town Police. The "SAFE" forum explores what dangers exist and strategies for protecting themselves and their loved ones at school, in public, and in relationships.
AAUW Chautauqua Arts Council Festival of Trees 
Come see our beautiful tree. Our gorgeous STEM Christmas tree has 50 decorations made by 50 wonderful Wythe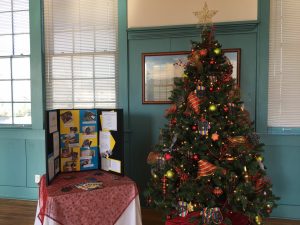 County and Bland County middle school girls. Girls love Science, Technology, Engineering, Math and Art!  Our tree will be on display Saturday, December 2nd through Saturday December 9th at the Heritage Preservation Center (115 W. Spiller Street). Please come out and view the tree and vote for your favorite in each tree category (Individual, Commercial, and Civic/Religious) but perhaps vote especially for ours.
Decorating and Displaying at Wythe County Public Library in December
Library Tree Decorating and Gift Cards. Each year our branch decorates a tree at our the Wythe County Library. Each member can donate a $10.00 Walmart card for the Family Resource Center. This is a great way to share the spirit of Christmas season with our Community.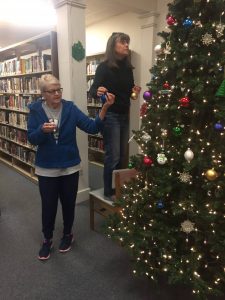 AAUW's Meeting at the Edith Bolling Wilson Museum
In April,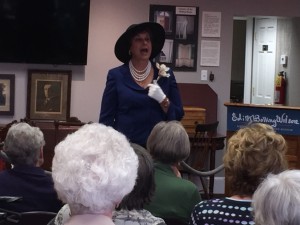 our local AAUW branch  had an opportunity to visit the Edith Bolling Wilson museum. Edith Bolling Galt Wilson, second wife of U.S. President Woodrow Wilson, was First Lady of the United States from 1915 to 1921.  While Mrs. Wilson publicly minimized publicly  minimized her involvement in the affairs of state, her stewardship of governmental duties earned her such labels as "The Secret President" and "The First Woman President' she is one of the most influential and historically significant women of the twentieth century. Here is a link to learn more:  http://edithbollingwilson.org/
2017- 2018 Programs
Sept 19         Membership Dinner
Oct                Voter Registration @ WCC 
Oct 28           Southwest District Meeting
Oct 18           Book Reviews (business meeting)
Nov 4             SAFE Event  7:00PM   Snyder Auditorium, WCC Campus
Dec                 Festival of  Trees
Dec 4             Library – Tree Decorating & Display Case (Wythe County Public Library)
Jan 17             Book Reviews (business meeting)
Feb 20           Guest Speaker, Leticia Maldonado, Talent Search at WCC
Mar 20          Business Meeting
Apr 17           Musical Program
April 22         STEM event for middle school girls
Apr 20-22       State Conference/Herndon,Virginia
May 15          International Dinner Guest Speaker, Rose Lester, "Italy"
June                TBD  (Summer organizational Meeting for 2017-2018)
Our 2015 scholarship recipient is Selena McGrady. Selena is a  graduate of Rural Retreat High School and is majoring in criminal justice at George Mason University.
Our 2016 scholarship recipient is Jessica Robertson who recently received her A.A. degree from  Wytheville Community College. She currently works full-time at WCCH and plans to pursue her Bachelors degree from Old Dominion University.
Our 2017 scholarship recipient is Virginia Bueller (Ginny) who recently graduated from Wytheville Community College. Ginny plans to attend college in the fall to pursue a Bachelors of Science degree in social work.