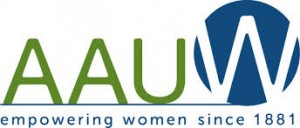 Annual Membership Dues are $72 (July 1, 2016 – June 30, 2017).
It is divided as follows: National – $49, State – $15, Local – $8.
Half-year Membership is $36 (January 1, 2017 – June 30, 2017).
AAUW Requirements:
A person holding an associates, baccalaureate or higher degree from an institution on the AAUW list of qualified institutions shall be entitled to and shall receive admission and membership into the Association on presentation of proper credentials and payment of dues to the Association treasurer or branch treasurer. Any person meeting these qualifications may become a member of this branch.
Please email the branch at aauw.wythe@gmail.com for more information on becoming a member or to be a guest at one of our programs.