WELCOME to our branch of AAUW.  Our meetings are held on the third Tuesday of the month.  Our branch does not hold meetings during the summer months.  Unless otherwise noted, meetings begin at 7:00 p.m. at the St. John's Episcopal Church, Fellowship Room, 275 East Main Street Wytheville, Virginia.  Below are some of the programs and events our branch sponsors.
SAFE FORUM!!!

The American Association of University Women (AAUW) Wytheville branch in partnership with W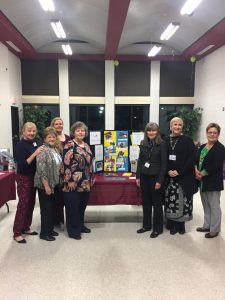 ytheville Community College (WCC)  hosts a forum entitled:  "Seeking Affirmative Female Empowerment," or "SAFE," an event aimed at discussing safety awareness for women and girls.
The "SAFE" program is held in mid November on the campus of Wytheville Community College. The  public is invited and this year over 50 people joined in the discussion.
Representatives from local law enforcement including Deputy Angie Simpkins with the Wythe County Sherriff's Office; Officer Steve Burnette, WCC Police Chief; and Dreama Walters, Fort Chiswell High School teacher and faculty advisor for the "Save The Next Girl" local chapter, were on hand as "SAFE" explores what dangers exist and helps the audience discover some great tips and strategies for protecting themselves and their loved ones at school, in public, and in relationships.
Scholarship Recipient
Click here for more information about our scholarship fund.  Pictured with our President Sarah Asbury is our 2017 recipient Virginia Bueller. Virginia (Ginny) plans to attend college in the fall to pursue a Bachelors of Science degree in social work.
 AAUW Chautauqua Arts Council Festival of Trees
Come see our beautiful tree. Our gorgeous STEM Christmas tree has 50 decorations made by 50 wonderful Wythe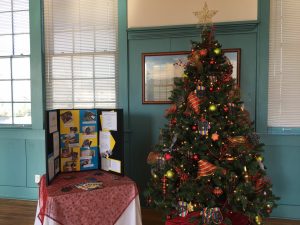 County and Bland County middle school girls. Girls love Science, Technology, Engineering, Math and Art!  Our tree will be on display Saturday, December 2nd through Saturday December 9th at the Heritage Preservation Center (115 W. Spiller Street). Please come out and view the tree and vote for your favorite in each tree category (Individual, Commercial, and Civic/Religious) but perhaps vote especially for ours.
Our  Middle School STEM program at Wytheville Community College  is coming March 24, 2018
Our branch partners with Wytheville Community College to hold a special event for Middle School girls.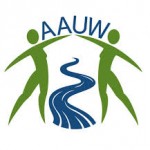 Dinner and a Movie coming March 22th, 2018. Partnering with Wytheville Community College, our local branch will be sponsoring a Free Movie and Concessions. Please see the calendar for more information.
Voting Registration for our Community
Decorating and Displaying at Wythe County Public Library in December
AAUW's Meeting at the Edith Bolling Wilson Museum
In April,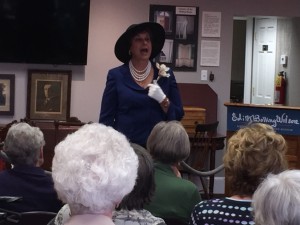 our local AAUW branch  had an opportunity to visit the Edith Bolling Wilson museum. Edith Bolling Galt Wilson, second wife of U.S. President Woodrow Wilson, was First Lady of the United States from 1915 to 1921.  While Mrs. Wilson publicly minimized publicly  minimized her involvement in the affairs of state, her stewardship of governmental duties earned her such labels as "The Secret President" and "The First Woman President' she is one of the most influential and historically significant women of the twentieth century. Here is a link to learn more:  http://edithbollingwilson.org/
International Dinner at the Wytheville Golf Club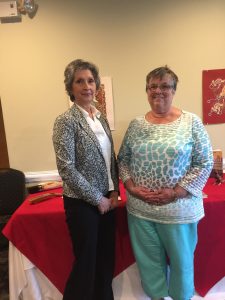 Each year our branch hosts an annual dinner which includes an international program .  This year's event was about Australia and New Zealand.  Our speakers,  who traveled to Australia and New Zealand  gave a wonderful presentation.  Click here for more information about their current travels as well as former speakers at our International dinner.
Where We are Located:
The Wytheville  branch of the AAUW is located in the heart of the Blue Ridge Mountains of southwest Virginia. Our members  are  diverse, educated, creative, conscientious, and often adventurous group that includes several generations of teachers, executives, writers, and community leaders (to name a few). We invite you to join us in our pursuits to fulfill AAUW's mission of promoting equity for all women and girls, through advocacy, education,  philanthropy, and research.
What We Offer:
Fellowship and community with like-minded people
Educational and thought-provoking programs
An open forum for discussion
Local, state, and national levels of participation
National membership benefits